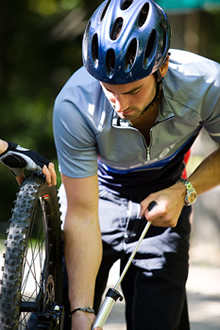 New Shops

Sea Mist Rentals in Santa Monica, CA

Breakaway Bicycles LLC in Bayville, NJ

C C Cycle in Mount Vernon, NY

Terrific's Bikes & Videos in Brooklyn, NY

Silver City Bicycles Inc in Raynham, MA

Performance Bicycle Shop in Tacoma, WA

Riddle's Schwinn Cyclery Inc in Statesville, NC

Electric Sierra Cycles in Santa Cruz, CA

TPJ Cycle Works in Salina, KS

Danny's World of Cycles in Scarsdale, NY

Fitness First in Saint Charles, MO

NY Custom Cycles in New York, NY

Hollinger Bicycles Inc in Goshen, IN

Bicycle Source in Abilene, TX

Badger Cycling Accessories in Lake Isabella, CA

The Sports Authority in Gainesville, VA

Touring Cyclist in Florissant, MO

C G Bike Inc in Fountain Hills, AZ

J B Bike Shop in Paramount, CA

Mobile Bike Shop by Earl in Floral City, FL

| | |
| --- | --- |
| | Be sure to check out our latest article on the types of bicycles to learn about the many choices you have for the varied uses that a quality bicycle serves. Before you hit the road it may also be a good idea to check out our top 8 bicycle safety tips to ensure that safety accompanies your fun and exercise. If you have any feedback or would like to see other write-ups please contact us to let us know. |
Smitty's Bicycle and Locksmith
1032 Covington Ave
Piqua, OH
45356




(937) 773-0747
(937) 606-0202


Our products and services include aaa official emergency service, auto, bagging, bicycle accessories, bmx & freestyle bikes, bonded & insured, business, business parking lots, changed, comfort cruisers, commercial and residential, complete line of accessories, home, installed, keys made while you wait, leaf cleanup, lock out specialty, locks, locks changed, locks opened, locksmith, mobile locksmith service, mobile service, mulching, parts, recumbents, repair all brands, repaired, repairs, residential & commercial, safe combinations changed, sales, salt spreading, snow removal, tandem & 3 wheel adult, tricycles, trimming, we carry a complete line of bikes, we repair all makes & models, we repair all makes and models and yards mowed.We are open Mon-Fri Weekdays and Open Saturdays.Sales.Brands: auto, bmx bikes, recumbents, schwinn, schwinn air dyne exerciser and schwinn bicycles.Certifications/affiliations: bonded and installed.
Reviews

By J.r. from piqua, OH
Posted Mar 13, 2015

a #1 jerk!!! I AM A MILD MANNERED MAN WHO HAS BEEN A PATRONIZING CUSTOMER IN THE PAST. I HAVE PURCHASED NEW BIKES FROM THIS MAN AND SENT FRIENDS WHO ALSO PURCHASED NEW BIKES. I WENT IN TO INQUIRE ABOUT HAVING A PROGRAMMABLE KEY MADE. AFTER MY INQUIRY AND MY IDEAS ABOUT HOW I COULD GET THIS DONE a LITTLE MORE ECONOMICALLY, WITH HIS HELP IF NEEDED, HE TOLD ME I WAS WASTING HIS TIME AND WHY DID I EVEN BOTHER HIM. I ASKED HIM IF MY PRIOR BUSINESS HAD ANY MEANING TO HIM, HE RESPONDED NO! IT DOESN'T MEAN SH#T AS HE RUDELY WALKED AWAY FROM ME BABBLING. I WOULD NEVER RECOMEND ANYONE TO ENTER HIS SHOP OR PURCHASE ANYTHING FROM HIM. YOUR BUSINESS SEEMS TO MEAN NOTHING TO THIS MAN. THIS MAN WILL BE POLITE AS LONG AS HE IS TAKING YOUR MONEY IT SEEMS TO ME, BUT HE DOES NOT SEEM TO WANT TO OFFER ANY KIND OF HELP OR FRIENDLY ADVICE. I HAVE NEVER WRITTEN A REVIEW ABOUT ANY BUSINESS OF ANY KIND BEFORE, BUT THIS EXPERIENCE NEEDED TO BE SHARED.I FELT UNEASY THE REST OF THE DAY WONDERING WHAT I HAD DONE SO WRONG TO BE TREATED SO RUDELY. i WILL SAY THAT MY EXPERIENCES THERE IN THE PAST WERE O.K., BUT NOTHING TO RAVE ABOUT. I JUST ALWAYS THOUGHT HE HAD A QUALITY ESTABLISHMENT...... UNTIL NOW. I'M NOT SAYING HE SELLS JUNK, OR ISN'T CAPABLE, HE JUST SHOWED ME THE WORST P.R. SKILLS I HAVE ENCOUNTERED IN A LONG TIME, AND TO BE QUITE HONEST, IT SURPRISED ME. GOOD LUCK!

By Mike from Piqua , OH
Posted May 30, 2014

I have tried them twice now I go into there store looking for bikes knowing they have high end bikes witch comes with a high price understandable.so I ask him some questions and said I just don't have that kind of money and said i really like the bikes i have a few kids and can't do that right now and its one of there birthdays so I said sorry and he said where you going to get a bike then I said Walmart for a cheap bike for now till I can afford one of his good ones,And he went nuts f this Walmart f that walk away and keeped making walmart comments I thought REALLY grow up I bet he shops a Walmart for food all the time what a hypocrite what a JOKE I have heard stories that he wigs out at the word Walmart ??? This guy is how old and he don't care if your kids are in there when he acts like a child also so please DON"T GO THERE if you do say Walmart and watch the old fart freak out

By Sandy Siler Pella from Bluffton, SC
Posted Sep 8, 2012

My first bicycle was purchased at Smitty's and they were neighbor's of mine. My family were the Siler's (Larry, Jimmy, Dennis and myself). My dad and mother bought my pinkish/purple bike from Smitty's and I loved it!!!. The Smith's always took care of any problems there were even though we had no problems with my bike. I didn't know Patty but I knew Wade, Junior, and Butch. Sandy

By Mark C. from New Bremen, OH
Posted Aug 22, 2011

I had my bike worked on at Smitty's. He did a wonderful job. He also had it fixed faster than he said it would be done. The price was less than expected. I will return. Thanks.
Share Your Review
Please note: all reviews are screened for spam and take 24-48 hours to be approved.